The Rascal Does Not Dream saga continues as the first feature length film from fan favorite series hits the big screen for two-nights only!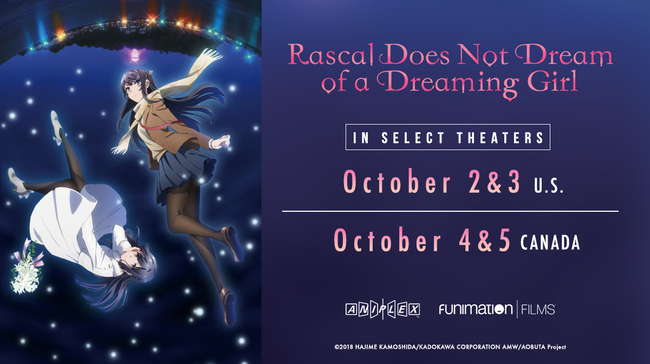 Aniplex of America in partnership with Funimation Films proudly presents
Rascal Does Not Dream of a Dreaming Girl
, coming to select theaters in the U.S. on October 2 and 3 and in Canada on October 4 and 5.
Based on Hajime Kamoshida's best-selling light novel that explores the complexities of growing up in the modern age, the film picks up from where the immensely popular
Rascal Does Not Dream of Bunny Girl Senpai
TV series left off, as it unravels yet another peculiar case of the psychophysiological phenomenon known as the "puberty syndrome. "
Rascal Does Not Dream of a Dreaming Girl
is the only feature-length film of the fan favorite anime series, which has been widely praised for its authenticity and approach on relatable social topics plaguing millennials, such as cyber bullying, peer pressure and falling victim to false gossip and rumors.
The film makes its way to over 200 theaters across the U.S. and Canada with advance tickets for the two-night engagement going on sale September 6.
Make sure to follow the official Facebook page at:
@RascalDoesNotDream